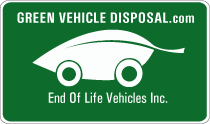 The most inclusive yet widespread program for Auto Recyclers to date, launches this month. GreenVehicleDisposal.com is the first national brand of accredited auto recyclers, whose harmonized focus is the responsible recycling of End of Life Vehicles thereby working toward a sustainable environment to be enjoyed by generations to come.
Article 2:
News From Manufacturers
General Motors
Since 1994, vehicle manufacturers around the world have been promoting the responsible treatment of end-of-life vehicles
(ELV) regardless of where they are used and retired. In GM's North American, European and Asia Pacific regions, the goal is to improve the ELV vehicle infrastructure through partnerships. For example, across North America GM continues to develop new technologies through the Vehicle Recycling Partnership and its recycling infrastructure partners.
GM continues to design our vehicles to be as recyclable and recoverable as is reasonable, and to implement these designs on vehicles around the world. GM has developed global standards also in order to gain common benefits across regions.
Nissan
In order to reuse valuable parts from vehicles that have reached the end of their service lives, Nissan has a long- standing history of pursuing innovative recycling methods.  We cooperate increasingly with recyclers and other stakeholders to find ways of refining the recycling process still further, and we continue to achieve results.
Ford
Automobiles are one of the most highly recycled consumer products.  At the end of their useful lives, all vehicles contain parts and materials that can be recovered – particularly iron, steel and aluminum.  In North America, about 95 per cent of vehicles that go out of registration are processed by a dismantler, with 82 to 84 percent of the vehicle by weight recovered for reuse, remanufacturing or recycling.
Suzuki
Based on our environmental philosophy, we are working to reduce the environmental impact by our products and conducting R & D on the effect of the Earth's limited resources.  Regarding end-of-life vehicles, we not only comply with each of the country's laws, but also design products that have minimal impact on the environment.  To assist this effort, we share data among suppliers, SUZUKI Development Department, SUZUKI Design Department and our distributors worldwide, and work closely with them.
Toyota
Through numerous initiatives on a global scale, Toyota is on the leading edge of reducing the environmental impact of automobiles at the end of their useful life.  As part of this effort, in North America, Toyota is working to achieve a 95 percent vehicle recovery rate and to reduce our use of various Substances of Concern.
Article 3:
Environmental Initiatives:
PURCHASING FOR POLLUTION PREVENTION
The automotive industry contributes 6.6 million jobs to the US economy, including manufacturing, sales, service and other jobs dependant on automobiles.  While most people are aware of the air pollution and global warming consequences of today's automobiles, fewer are aware of the environmental impacts of the production and disposal of cars.  Vehicles contain mercury and lead, highly toxic chemicals that persist in the environment and can build up to dangerous levels in the food chain.  Approximately 12 million cars are junked in the US and Canada, and these dangerous chemicals an be emitted by smelters that recover metals from vehicles at end of life.  In addition, incineration of car parts made from polyvinyl chloride (PVC) can generate emissions of dioxins, a group of toxic chemicals that result from combustion and certain manufacturing processes.  Mercury, lead, and dioxin contamination contribute to a number of ongoing environmental and public health threats in the US.
AUTO ANGELS – FOSTERING MOTOR VEHICLE DURABILITY
Motor vehicles are arguably, the most environmentally damaging consumer product.  Consumer dissatisfaction with cars and motor vehicle mechanics is very high.  Based on significant experience in motor vehicle mechanics, Auto Angels was established to provide services that would optimize car owner satisfaction, and extend the performance and life of motor vehicles, reducing both the costs and the environmental impacts of car ownership to create what they call 'sustainable car ownership'.
MANAGEMENT OF END-OF-LIFE VEHICLES (ELV'S) IN THE US
The desire to permanently retire a vehicle poses a challenging resource optimization problem from both an environmental and economic perspective.  Investment of additional resources in the form of parts and components can potentially extend the life of a vehicle, but the environmental performance of an older vehicle in terms of fuel economy and emissions is worse than a newer vehicle. The depreciated value of the vehicle and the owner's opportunity cost for making repairs are economic factors influencing this decision.  It is difficult to develop guidelines to assist users in calculating precise environmental tradeoffs.  The Center for Sustainable Systems is currently investigating optimal vehicle service life from environmental and economic perspectives.    The first product of this effort is a life cycle optimization model for minimizing the total energy consumed over a specific time horizon (Kim et al., 2000).
Article 4:
Environmental Issues:
TOXICS IN VEHICLES: MERCURY IMPLICATIONS FOR RECYCLING AND DISPOSAL:
The United States had a record 210 million automobiles on the road in 1999, up 15 million from 1994, and the total for all of North America in 1996 was more than 235 million.  Each year some 12 million of these vehicles are retired from useful life.  Many of the materials used in their production creates problems along the way, either in the vehicle's manufacture, use or end-of-life.  This report examines the historic and continuing use of the highly toxic metal mercury in automobiles and estimates its releases to the environment from end-of-life vehicle (ELV) processing.  The report will show that emissions from vehicle recycling and disposal processes are one of the largest sources of mercury contamination to the environment.  The report also examines strategies for cleaner production and proposes key policy solutions to eliminate mercury hazards in new and existing vehicles.
MOVING TOWARD SUSTAINABLE PLASTICS:
This report represents the first in a series of reports planned by the Ecology Center in collaboration with Clean Production Action on the use of sustainable plastics in the auto sector.  It is a continuation of research we have been conducting through the Clean Car Campaign on more environmentally preferable materials in automobiles.  As one of the largest consumer products, automobiles are responsible for a sizeable portion of the flow of materials and waste in our economy-in addition to their well-known consumption of petroleum fuels during their use.  The sector therefore merits close scrutiny from the public at large to ensure it is moving in a sustainable direction.  Plastics represent a growing proportion of the automobile-currently 4.3 billion pounds a year-and are the fastest growing source of waste at the automobile's end of life. Petrochemical-based plastics like PVC also contain toxic chemicals that can harm human health during their production and use, potentially exposing drivers to unhealthy emissions inside their automobile.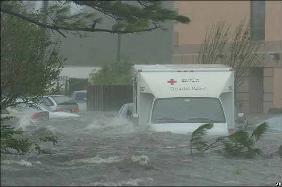 Hurricanes Katrina and Rita have affected so many and the accounting of devastation has just begun. One factor that will affect many is the number of flood vehicles that will come out of affected areas. Current estimates are that at least 571,000 cars may have been destroyed following Hurricane Katrina but could be found to be significantly higher because of Hurricane Rita. This total includes new and used vehicles on dealer lots in addition to the cars owned by companies and individuals. All of these vehicles cannot be put back on to our roads. The cost of this mega storm keeps growing.
"Anyone buying or selling a used car needs to be aware of potential problems that may exist," says Larry Gamache, communications director at CarFax. "We're committed to providing our customers with the resources they need to protect themselves."
CarFax also has developed an advisory that identifies any vehicle last registered in a Federal Emergency Management Agency (FEMA) disaster area. The advisory will appear through the Flood Check and CarFax Vehicle History Report for applicable vehicles. Over the coming months, CarFax will be working with law enforcement, state agencies and private companies to make sure all of these vehicles are properly branded.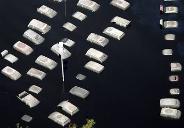 Flood Cars in Peterborough, Canada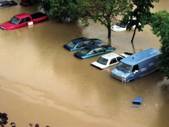 Flood Cars in New Orleans, USA
If only repairing a flooded car were as easy as getting the drive train running again…
Yes, a car's major mechanical systems can survive a flood, be cleaned up, and used again. But think about everything else in a car: Any portion of the interior that isn't solid plastic will be junk after a week in sewage-soaked water. Carpet, seats, door panels… Imagine trying to clean and mud and muck out of an instrument cluster, let alone getting it to work again reliably.
You can kiss the sound system goodbye, too. CD drives don't like mud; neither do speakers. Speaking of electronics: The engine block can survive a lot – but the computerized engine controller can't. It'd probably survive a few hours of water – but a few days will result in electronics that either won't work or can't be trusted to work reliably. Every switch, relay and solenoid will have been contaminated.
All flood vehicles should go through Register Auto Recyclers who can safely dismantle the re-useable mechanical parts and disposal safely the other portions of the vehicles that are flood damaged.
According to AutoExtra.com in their Vehicle Flood Tips article: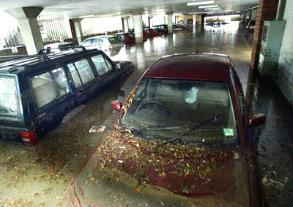 At what point is the car not repairable?
The reality is, if the water has reached that midpoint on your tire, you most likely want it to be declared a 'total loss'. Once an automobile has been flooded, the entire electrical system becomes questionable – and many critical systems are located on the bottom of the car. Water has a way of ruining electronic components, especially for vehicles equipped with a computer controlled engine management system. Vehicles that have been completely under water should be destroyed. If the car has been sitting in saltwater – consider it a total loss. Saltwater destroys paint, rubber, electrical wiring, metal and all upholstery.
How can I avoid buying a car with previous flood or accident damage?
It is common that unscrupulous sellers will attempt to pass flooded vehicles as undamaged to unsuspecting and careless buyers – and there will always be cars with undisclosed accident damage on the market. Now, more than ever, buyers have tools to protect themselves from unseen
or covered damage. The best methods of protection are getting detailed vehicle history reports, like CarFax, and looking for certified used cars.
Click on the headings below for more information.
Reputable Seller Interior Inspection
VIN Plates Body Inspection
First, buy from reputable dealers.
You can find great vehicles buying from private sellers but beware of "curbsiders" – people who sell numerous cars claiming to be private sellers and therefore avoid basic government oversight.
Avoid auctions – online or otherwise – unless you are experienced with them.
Ask the seller if the vehicle has had flood damage – sounds simple, but answers like "not to the best of my knowledge" or "the previous owner didn't tell me of any flood damage" are red flags. Get the answer in writing with the bill of sale.
Ask to see the title – if it is not stamped "flood" or "salvage", get the car's history to find out if has come from a recently or previously flooded area of the country.
Check the vehicle's title history, it may state whether it has sustained flood damage.
Check to make sure the vehicle identification numbers (VIN) match on the door sticker and the dashboard tag.
Interior Damage Checklist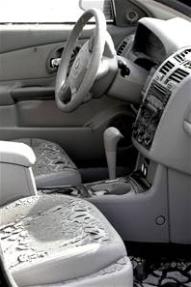 Interior flood damage on a new car.
Check for recently shampooed carpet;
Inspect for rusting on the inside of the car and under interior carpeting and visually inspect all interior upholstery and door panels for any evidence of fading;
Look under the floorboard carpet for water residue or stain marks from evaporated water not related to air-conditioning pan leaks;
Carefully inspect the inside of the car looking for watermarks on door panels, radiators, wheel wells and seat cushions.
Beware of cars with new or mismatched upholstery.
Check under the dashboard for dried mud and residue, and note any evidence of mold or a musty odor in the upholstery, carpet or trunk;
Check for rust on screws in the console or other areas where the water would normally not reach unless submerged;
Body Damage Checklist
Examine engine compartment for evidence of water and grit from suspected submersion;
Look for rust on unusual places like door hinges, hood springs, under dash brackets, and trunk latches.
Look for water and moisture inside exterior lighting.
If the car has a paper air filter, check it – if it has water stains the car has likely been flooded.
Look for mud or grit in alternator crevices, behind wiring harnesses and around the small recesses of starter motors, power steering pumps and relays;
Complete a detailed inspection of the electrical wiring system looking for rusted components, water residue or suspicious corrosion;
and
Inspect the undercarriage of other components for evidence of rust and flaking metal that would not normally be associated with late model vehicles.