End Of Life Vehicles, A Global Problem?
End Of Life Vehicles have been a consistent problem for years around the world. Although there have been many 'talks' on the subject by various countries and their respective governments, not many pro-active measures have been taken. Poor recycling practices take place in North America as there is currently has no legislation governing the management of End Of Life Vehicles, despite the following;
The European Union and the End of Life Vehicle Directive
On October 21 2000, the End Of Life Vehicle directive was enacted, all member states were to have enacted their own legislative documents by April 21 2002 that met all criteria as outlined by the directive.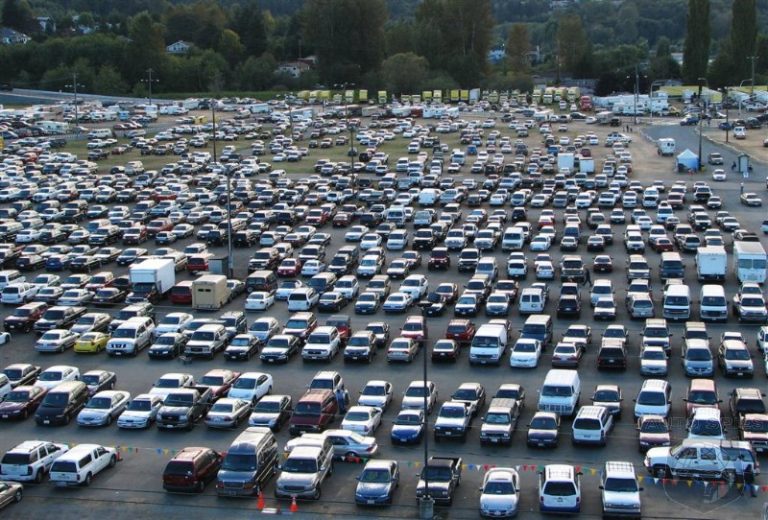 The European Union End Of Life Vehicle (ELV) Directive requires member states to:
Ensure that all End Of Life Vehicles are treated only by Authorized Treatment Facilities.
Make provisions for the free take-back of all vehicles put on the market after 2002 by a certain date.
Make provisions for the free take–back of all vehicles put on the market prior to 2002 by a certain date. Significantly reduce the use of heavy metals (such as steel) in the production of new vehicles from July 2003.
Ensure an 85% reuse or recovery rate (including energy recovery) with at least 80% reused or recycled. By 2015, 85% must be reused or recycled.
Moreover, the directive stipulates that:
Vehicle producers limit or significantly reduce the use of hazardous substances in the production of new vehicles, vehicle components and actively pursues and promotes the recyclability of their vehicles.
Every End Of Life Vehicle must go through a process of de-pollution prior to dismantling, recycling and disposal.
Authorized Treatment Facilities must operate at higher environmental standards than salvage yards, for example, whose primary interest is metal extraction rather than environmental preservation, and must be accredited.
FACT: 2 million vehicles reach the of their life in the UK every year. Presently, 74-80% of the weight of a typical End Of Life Vehicle is reused or recycled.
The directive is extensive in that it also requires the 'de-pollution' or treatment of these vehicles before they can be recycled. This involves the removal of fluids such as gas, diesel, brake fluid, engine oil and anti-freeze, as well as other items such as batteries, air bags and mercury bearing components.
The End of Life Vehicles regulations came into effect November 3, 2003 throughout the European Union. Explicitly, these regulations provide guidance for the Authorized Treatment Facilities as to the storage and treatment of End Of Life Vehicles. These regulations stipulate that operators of such Authorized Treatment Facilities must obtain a license if they are accepting End Of Life Vehicles that have not yet been through the process of 'de-pollution'.
More specifically, the regulations, as released by DEFRA and the Department of Trade and Industry (DTI), outline the treatment procedures necessary in achieving the end goal of a depolluted End Of Life Vehicle that can then be classed as non-hazardous waste.
Required improvements
In a report released by the Automotive Consortium on Recycling and Disposal (ACORD), based on industry performance n 2000, the total recovery rate of End Of Life Vehicles was a mere 80%. Of this amount 69% of materials were recycled and 11% reused. In hopes of meeting the 85% threshold by 2006, the report outlined areas of required improvement:
The better separation processes that will facilitate increased plastics recovery.
The development of markets for recycled plastics to entice stakeholders to recycle.
More effective de-pollution techniques that will facilitate the increased recovery of fluids.
An Increase in the tire recovery process.
The decrease in residual metal content found in Automotive Shredder Residue (ASR).
An increased glass recovery process despite lack of cost-effectiveness.
The development and integration of energy recovery process with respect to Automotive Shredder Residue (ASR) specifically.
The development and integration of Automotive Shredder Residue (ASR) material recovery processes.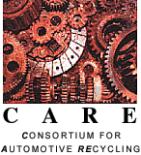 CARE is a voluntary organization made up of 15 vehicle producers, dismantlers and recyclers. CARE was created as an industry solution to End Of Life Vehicles given the anticipation of the End Of Life Vehicle Directive throughout Europe. The goal of CARE is to raise environmental standards of the treatment of End Of Life Vehicles all over the United Kingdom.
The way this is achieved is by allowing the free flow of technical information between the two parties (producers and dismantlers), however, this does not include financial assistance from the producers. This data is collected by the International Material Data System (IMDS) that is free online for the majority of the worlds vehicle producers for manual data entry. The electronic uploads are also available for a nominal fee. It is an online database that was created for use by the automotive industry to facilitate the sharing of information among all stakeholders. The problem with data collection among vehicle producers is that some producers collect and publish data independent of the IMDS, thereby weakening its potential success. Due to the number of systems used for collecting data, what often occurs is confusion among users as to the compatibility of varying systems. Unfortunately these systems are incompatible and therefore, the data collection system within Europe, for instance, is inefficient. Rather than post information onto data management systems such as IMDS, what many of the vehicle producers have began to do is publish such information, while, of course, protecting any intellectual property rights. Although initiatives such as IMDS are endorsed by CARE, this is not necessarily their primary focus.
In order to display the CARE logo, which is known region wide, recyclers must adhere to the minimum applicable environmental and business standards.
Goals of CARE:
To systematically reduce the amount of automotive waste going into landfills.
To generate, through education and promotion, a heightened demand for material sent to landfills, that will increase the entire recycling initiative.
To eventually eliminate any potential pollution risks brought about during the vehicle recovery and disposal process.
CARE has many sub-groups investing in research and development involving rubber, energy recovery and plastics recycling to ensure the amount of waste material entering landfills is significantly reduced.
CARE works hand in hand with vehicle producers; forwarding information found among stakeholders to allow for the future development of vehicle designs and makes provisions for the increased recycling of materials.
CANADA: Problems in ONTARIO
Numerous provincial ministries as well as municipal by-laws govern the automotive recycling industry in Ontario. The Ontario Motor Vehicle Industry Council (OMVIC) is an organization that regulates the Motor Vehicles Dealers Act for the Ministry of Consumer and Corporate Relations (MCCR).
According to the Environmental Protections Act, increasing auto recyclers have the classification of "waste disposal sites" and require a certification of approval in order to operate. However, to acquire certification, consistent monitoring is required. Unfortunately, the monitoring of these sites no longer occurs and therefore a certificate of approval by the Ministry of the Environment has not been issued since 1979. Ongoing debate has revolved around whether the monitoring of such sites should be a matter of provincial or municipal jurisdiction.
At the municipal level, auto recyclers are subject to zoning by-laws and licenses, therefore, municipalities can regulate the layout, location and standards of operation of auto-recyclers across Ontario.
Although it has been suggested the monitoring of auto recyclers is a "municipal responsibility", these municipalities do not have the resources or experienced personnel to regulate or to inspect such facilities. At present, there seems to be little environmental protection at the provincial level, the Ministry of Transport has even gone so far as to suggest that it "will not regulate environmental impacts associated with the industry".
Highway Traffic Act
The Garage and Storage licenses (subsection 41) of the Highway Traffic Act stipulates that "all persons in the business of wrecking or dismantling vehicles must be licensed with the Ministry of Transportation of Ontario (MTO)". This, however, does not apply to a person registered as a motor vehicle dealer under the Motor Vehicles Dealer Act, these that have Class – D licenses.
Any business that wrecks or dismantles vehicles must send ownership to the MTO which, in theory, should give the Ministry an accurate number of vehicles dismantled in a given year. This number, however, is tainted as a number of businesses that deal in the dismantling of vehicles also deals in the buying and selling aspect. Therefore, those with a class-D license, do not have to send in their ownership. Using this method, the accurate number of vehicles processed or wrecked in Ontario cannot be achieved. GreenVehicleDisposal.com is committed to accurately tracking the amount of End Of Life Vehicles processed every year throughout our network of accredited Authorized Treatment Facilities.
Stolen and Salvage Vehicles Project
The Canadian Council of Motor Transport Administrators (CCMTA), in 1994, approved a model program for the identification of wrecked vehicles at a national level. The aims of this project were as follows:
To introduce a harmonized system whereby a vehicle's history remains permanently identifiable.
To systematically prevent the reintroduction of stolen vehicles.
To ensure the safety of all wrecked vehicles that have been rebuilt, making sure that all parties adhere to all applicable standards and existing legislation.
To ensure that when damaged vehicles are being rebuilt, the concealing of stolen parts used is made more difficult.
These aims have lead to a new branding system that appears on the vehicle permit; these include: stolen, irreparable, salvage and rebuilt.
Research Initiatives in North America
VRP: Vehicle Recycling Partnership includes the "big-three"; Ford, GM and Daimler-Chrysler as well as representatives from the plastic industry that have been actively researching the issue of End Of Life Vehicles. The Vehicle Recycling Partnership (VRP) is an active member of the United States Consortium of Automotive Research (USCAR).
NRC: National Research Canada released a report entitled "ASR: An assessment of Thermal Recycling as a resource option".
This report is extensive in that it spans 200 pages and outlines detailed information based on the survey findings of various companies that use technologies that recover resources from Automotive Shredder Residue (ASR).
One use of Automotive Shredder Residue (ASR), as being researched by the NRC, is the suitability of this material as landfill day-cover. According to the Institute for Chemical Process and Environmental Technology (ICPET), using Automotive Shredder Residue as day cover is one of the most environmentally viable and economically efficient options. Through demonstrations, ICPET has found that ASR is an exceptional permeable surface especially as far as heavy metals are concerned. This point is of utmost importance as without some type of day-cover, the materials disposed of at landfill sites could leak into the soil and water sources. Automotive Shredder Residue is furthermore of use at landfill sites as it is actually compressible and can therefore reduce the total volume of a landfill unit. Because of these initiatives, Automotive Shredder Residue is being promoted to municipalities as an alternative to soil covers to be used in their landfill sites.
Moreover, research conducted by the Environment and Plastics Industry Council (EPIC) and the American Plastics Council (APC), has found that "by substituting ASR for coke, blast furnaces can achieve significant cost savings and reduction in their air emissions".
Manufacturer Initiatives
Of all bodies involved in the treating and handling of Automotive Shredder Residue (ASR), the manufacturers probably have the greatest impact. Manufacturers, in essence, decide what materials are used or are gong to be used in each of their vehicles. With the underlying principle of
Extended Producer Responsibility (EPR), manufacturers, according to the Canadian Vehicle Manufacturers Association (CVMA), have began to incorporate this principle within their design phase. Many motions have been made toward simplifying the number and types of materials used, so that when the time comes for the vehicle to be processed after it has reached the end of its life, the recycling of components is not difficult to achieve.
By manufacturers indicating that recycled materials have gone into the production of their vehicles, not only does the demand for such products increase, but manufacturers are also showing their support for the entire recycling process and infrastructure. However, the nature of the automotive industry does not fully promote the ideals of the recycling philosophy and must take into account customer expectations, which involves the performance of their product, which is a factor that may not coincide with the premise of the recycling industry.
Although the Vehicle Recycling Partnership (VRP) has done an extensive amount of research with respect to dismantling and fluid recovery procedures, the removal of mercury switches, and seat–foam recovery, these findings have yet to be implemented in the recycling network throughout Ontario.
British Columbia
The British Columbia Automotive Recyclers Association (BCAR) along with Environment Canada as well as other concerned groups began developing a code of practice based on End Of Life Vehicles in 1993. This code of practice included procedures that deal with the removal, transportation, and adequate treatment of End Of Life Vehicles all with the theme of effectively preventing pollution in mind. This code gradually gained acceptance and by June 1997, the first draft of the Small Business Pollution Prevention Stewardship Regulation was completed.
This regulation was proposed to be enacted as an Industry wide code of practice in November of 1998 that set out strict guidelines as to the safe and proper treatment of End Of Life Vehicles by accredited Authorized Treatment Facilities. Of most importance, of course, was the treatment of hazardous materials such as antifreeze, fuel, oils, brake and steering fluids, windshield fluid, air condition gases and mercury switches as the majority of such can be reused or recycled.
Unfortunately, despite these efforts, the Small Business Pollution Prevention Stewardship Regulation to date has not been enacted and there is no indication of when this may occur.
Nova Scotia
The Nova Scotia Department Of the Environment (NSDOE) introduced a regulation that required "a stewardship program be established to deal with derelict and 'end of life' vehicles'". This lead to the research and final formation of the Abandoned Vehicle Recovery and Recycling proposal for those dealing directly with End Of Life Vehicles. The Resource Recovery Fund Board established a task force, working with the automotive industry and the provincial government. This task force, endorsed by both the Automotive Recyclers Association of Atlantic Canada and the Nova Scotia Automobile Dealers Association concluded that in order to finance the effective recovery of the vehicles annually abandoned in Nova Scotia, a $4.00 bi-annual fee must be paid by all vehicles currently registered.
This proposal is currently being reviewed and no decision has yet been made.
Japan
The Ministry of International Trade and Industry passed legislation in October 1996 that adequately addressed the management and treatment of End Of Life Vehicles in Japan. It stipulated that vehicle manufacturers must decrease the amount of lead used in newly produced vehicles and also set clear targets for the recycling of End Of Life Vehicles; 85% by 2002 and 95% by 2015.
Australia
There is currently no legislation regulating the disposal of end of life vehicles in Australia. It is estimated that 500,000 vehicles reach the end of life cycle each year (Environment Australia) as there is no way of tracking the disposal or recycling of these vehicles. Australia has been keeping a keen eye on the situation evolving in Europe and Asia (especially Japan), and concludes that the model each continent is using could be very beneficial to the abandoned vehicle problem that seems to be plaguing Australia year after year.
As each year comes to an end, it appears that the number of vehicles reported as handled by auto recyclers throughout Australia (via the Auto Parts Recyclers Association of Australia – APRAA) is equivalent to those estimated by Environment Australia, and the trend is following the upward climb. It is estimated that by 2010, the number of vehicles at the end of their life cycle, could exceed 750,000. This being said, there are many steps obviously that need to be taken to ensure that these end of life vehicles are dealt with accordingly.
Much like companies based in North America, Australian car manufacturers are producing cars that will be easier to dismantle and using materials that will be more viable to recycle, but there still have been no steps taken to put in place legislation to govern the disposal of end of life vehicles, as the European Union and Japan have.
Despite the above-mentioned initiatives, there currently is no legislation governing the management of End Of Life Vehicles in North America. GreenVehicleDisposal.com provides North America's first self-regulated harmonized solution toward the management of End Of Life Vehicles.