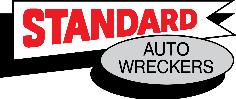 The authorized treatment facility in your region is Standard Auto Wreckers. Standard Auto Wreckers (SAW) has been our Affiliate since inception. SAW is a member of Automotive Recyclers Association, Automotive Recyclers of Canada, United Recyclers Group, Ontario Automotive Recyclers Association and is CAR and Gold Seal certified.
Standard Auto Wreckers has been dismantling vehicles since 1979. As an auto recycler and an avid participant in environmentally friendly recycling practices, we take pride in portraying this in every aspect of our business; in this way we process our vehicles, and the way we minimize the damage that vehicles and their components can cause the environment if not handled in the appropriate manner. SAW is fully equipped with the latest fluid evacuation system available to ensure the minimization of a vehicles impact upon the environment at the end of its life.  We are a Gold Seal member of the Automotive Recyclers Association (ARA), an international organization of responsible and environmentally committed members. SAW's other associations include United Recyclers Group, Ontario Automotive Recyclers Association.
Here at SAW, we have a fully computerized inventory of used parts either sold 'Off the Shelf Ready to Go', or through 'UPIC', where customers may pull parts from vehicles in the self serve section of its facility. SAW also houses a complete Tire Shop and an After Market Parts division for new parts. SAW's professional sales team works with each customer, to ensure that every request is processed and confirmed quickly.
Contact:
Toll Free: 1-877- 363-6354
Local Calls: 416-286-8686 and ask for Dispatch.
Hours of Operation:
Mon to Fri 8am – 5pm EST Sat – Sun* 9am – 3pm
*Sunday hours only applicable April – November
Other services: End of Life Vehicle Collection, Abandoned Vehicle Services. Used and New Parts, Fully equipped Tire Shop, U-Pull-It yard (self serve section)