Our company is an end-to-end, customer oriented alternative energy company that is centered on the marketing, trading, transportation, and distribution of biofuel of all sorts in the US and around the world…
Firstly, we're an environmentally friendly renewable energy company offering a broad portfolio of technologies, products, & solutions to our clients globally!
To create the first national brand of accredited auto recyclers, whose harmonized focus is the responsible recycling of End of Life Vehicles thereby working toward a sustainable environment to be enjoyed by generations to come.
To develop a national solution to the environmental problems created by the mismanagement of End Of Life Vehicles. This will combine the use of various technologies that will facilitate the continual yet appropriate dissemination of End Of Life Vehicles by each of our franchisees covering varying geographic regions spanning North America in its entirety.
North America's first harmonized solution dedicated toward the proper treatment of End Of Life Vehicles.
We ensure End Of Life vehicles are disposed of in an efficient manner, meeting all legislated requirements, thereby contributing to the future stability of the environment.
What happens to your End Of Life Vehicle?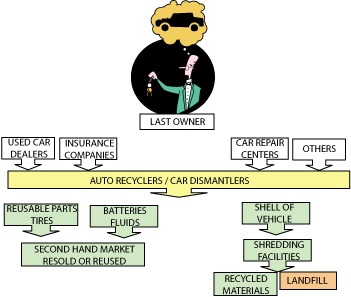 How?
When a vehicle reaches the end of its useful life, it is picked up as per your phone or e-mail request and taken to one of our Authorized Treatment Facilities (ATF's) where all harmful materials are removed. All facilities are inspected prior to accreditation. Each of our accredited Authorized Treatment Facilities will pick up your vehicle and change the ownership/title into their respective companies name. Once all harmful materials have been removed, all fluids are drained into proper containers, making sure nothing seeps into the ground. Any reusable parts are recycled or reused, the remaining vehicle is then sent off to be shredded where metal recovery is initiated.
Basic steps in the end-of-life treatment process
Pre-treatment
draining of all fluids and of hazardous materials, removal of batteries, etc..
Reuse
components are reused if possible after removal.
Recycling
the manufacture of new products with equal or lower quality requirements made of vehicle components.
Energy recovery
incineration and energy withdrawal.
Only when the above measures are deemed unfeasible does the waste material end up at landfill sites.
Why?
Traditionally, when a vehicle has come to the end of its useful life it is taken to an auto recycler. This vehicle is then stripped by a dismantler, removing any parts that may be sold for reuse and environmentally harming materials such as fluids and batteries. The remainder of this vehicle is then sold to a shredding operation. At these "shredders", the hulk of the vehicle is broken down into much smaller pieces (about the size of a fist). This is where the separation of ferrous and non-ferrous metals takes place. Although the percentage of recycled End Of Life Vehicles is currently much higher than any other consumer product, 408,000 tons of material nonetheless ends up at landfill sites every single year within the United States alone.
The End of Life vehicles Directive aims to prevent waste from end-of life vehicles and promote the collection, re-use and recycling of their components to protect the environment.
The types of materials that end up at land fill sites each year include plastics, rubber, glass, dirt, carpet fibers and seat foam, the composition of the above-mentioned materials is more commonly known as Automotive Shredder Residue (ASR) and presents a huge consumption and waste management problem.
FACT:
Every year in the United States alone, 10-11 million vehicles reach the end of their useful life and deregistered and taken off the road.
Of the amount of vehicles that have reached the end of their lives, salvage and shredder facilities currently process 94%. ASR comprises 25% of these vehicles by weight or 75% by volume. The resulting waste product cannot be recycled. This amount is staggering considering that ASR is comprised of materials that are considered both non-recyclable and recyclable. If ASR is comprised of both recyclable and non-recyclable material, the question is then raised that given the negative impact of ASR why aren't greater measures taken to ensure the amount of ASR that reaches landfills is decreased. As stated, ASR includes materials such as plastics, foam, rubber and glass. The problems of resource-consumption and waste-management are then exacerbated every single year as vehicle producers use more fibers and plastics in order to make their products more competitive by weight and fuel efficiency requirements. The crying shame is that although some of the ASR components can be recycled, the "current network does not separate them for recycling". Debate on this topic has lead to the conclusion that producers must be made accountable for the end-impact of their product (s) upon the environment. This lead to the conception of the Extended Producer Responsibility (EPR) principle which states:
"Considering the life cycle of a product from manufacture until the end of its useful life, producers, material suppliers, trade, consumers and public authorities share specific waste management responsibilities. However it is the product manufacturer who has a predominant role since he takes key decisions concerning his product which largely determine its waste management potential."
Extract from the EU Community Strategy on Waste Management, 1996
Moreover, "Producers have to be responsible for the life cycle environmental impact of their products."
The principle was created given the logic that the producers are the only group who could adequately assess the impact of materials chosen in the production phase and their final impact in their disposal, not to mention the damaging effect of their product during its useful years.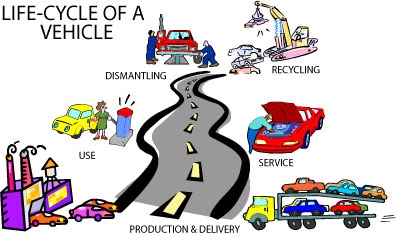 The Extended Producer Responsibility principle has been adopted widely in Europe and Japan. For example, the United Kingdom has initiated their own vehicle take back program. Moreover, all German producers have voluntarily agreed to accept responsibility for the proper management of End Of Life Vehicles. Japan, under guidance of the Japan Automotive Manufacturing Association (JAMA), initiated various measures to drastically reduce the 10% of abandoned vehicles found as compared to a relatively low 6-7% abandoned in North America.
Although initiatives have been very successful in Europe and Japan, North America did not have a proactive solution to the End Of Life Vehicle problem, until now. Waste prevention is a main objective of the End of Life Vehicle Directive as found in the European Union. Studies have shown that this, by and large, is the ultimate responsibility of the vehicle producer as they can dictate, in essence, the very materials used in their product design. This, however, does not give any consideration to the countless vehicles that are on the road and almost at the end of their useful lives. This is where GreenVehicleDisposal.com takes over…
The need for GreenVehicleDisposal.com:
The End Of Life Directive states provisions must be made for the collection of End Of Life Vehicle's and waste used parts. This is what GreenVehicleDisposal.com specializes in, the management of your End Of Life Vehicle (s). Not only do we pick up your End Of Life Vehicle, we also ensure that your End Of Life Vehicles are taken to accredited Authorized Treatment Facilities where the deregistration, draining of fluids and dismantling of all End Of Life Vehicles takes place. Priority is given to those materials that can be reused or recycled such as tires, batteries, etc. Once a vehicle has been deregistered, an GreenVehicleDisposal.com Certificate Of Destruction or Deregistration (COD) is produced for our customer's that certifies their vehicle will be disposed of by an accredited Authorized Treatment Facility, adhering to all environmental and government legislation.
The part GreenVehicleDisposal.com plays in this process is quite substantial in that we unify North America and educate the public on the basis of environmental responsibility, working toward a sustainable environment for years to come.