Attention all vehicle manufacturers across North America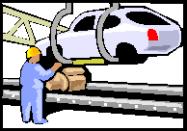 Do you want to help contribute to the proper disposal of your end of life vehicles in an efficient and environmentally sound manner? Look no further, GreenVehicleDisposal.com offers a one-stop solution for all of your requirements! Our corporate office will work with you on customer programs to ensure your companies objectives are realized and help you implement all manufacturer programs.
Our features include:
Towing to your nearest GreenVehicleDisposal.com affiliated Authorized Treatment Facility (ATF).
The tracking of your end of life vehicle (s) from pick up to disposal using claim #'s provided
The completion of all necessary paperwork and administration procedures associated with your vehicle (s).
The provision of a Certificate Of Destruction or Deregistration (COD) for every single vehicle picked up and disposed of by one of our affiliates.
Contact our Business Development Manager at our corporate office at 1-877-363-6354 (1-877-End Of Life) or
www.GreenVehicleDisposal.com.
For a program that:
Promotes the purchase of newer vehicles:
Ties customers into your vehicle market,
Promotes the proper and efficient recycling of End Of Life Vehicles at no cost to your company,
Handles all of the set-up and administrative issues on your behalf,
Provides a complete solution to the environmental management of End Of Life Vehicles
Our policy is to work with the vehicle manufacturers. GreenVehicleDisposal.com is dedicated to developing and initiating vehicle take back programs for vehicle manufacturers that will not only promote higher polluting vehicles be put to rest but will also streamline this process with the governments and publics best interest in mind. Vehicle Manufacturers are now producing more fuel-efficient vehicles and trucks than ever before and customized pro-environmental program will help highlight your efforts! Please click on the flags below to begin your member search in your area.